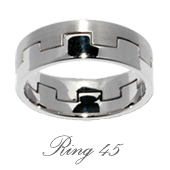 Diamonds…men's best friend? Women get them, so why can't men? These questions are inevitable when it comes to deciding if a bit of bling is best for your ring. Diamonds are making their mark more and more in men's wedding bands. Whether it be a single diamond or a line of diamonds, a diamond is an equally beautiful expression for a men's wedding band as it is for a woman.
When it comes to deciding whether or not to have a diamond in your wedding band, it is a very personal decision. Once you have decided if a diamond wedding band is for you, you then have to decide how to set the diamond(s) and how many you would like, this can often become quite overwhelming. If you are not someone who has an interest in jewellery or do not wear any jewellery apart from a watch, it does not mean that a diamond set wedding band is not for you, it may just mean that you approach it differently. For example, here at Varoujan Jewellers, we would suggest setting a more masculine cut diamond into your wedding band, such as a princess cut or baguette cut which is a great way of incorporating a diamond without having to worry about too much sparkle. The size of the diamond you decide upon will also affect how much presence it bears upon your ring, where a smaller diamond set slightly more inconspicuously will suit someone who is not wanting their wedding band to be too much of a statement.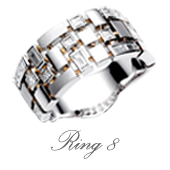 For those who are slightly more daring, diamonds can be incorporated into men's wedding bands in creative and beautiful ways, as evident in our Varoujan Boutique collection of men's diamond wedding bands. Here at Varoujan Jewellers we specialise in creating one off unique handmade creations and that extends to our men's wedding bands, incorporating all different cut white, black and even blue diamonds.
So, if you are unsure if a diamond wedding band is suitable for you or your loved one, make sure to visit our Varoujan Westfield Boutique to experience our range of beautiful men's wedding bands, including those that features diamonds. Making the leap to a men's diamond wedding band for some gentlemen can be too much, however, for those who choose diamonds, they can rest assured that here at Varoujan our designs and quality are far superior, ensuring that you enjoy your ring in 'sickness and in health'.