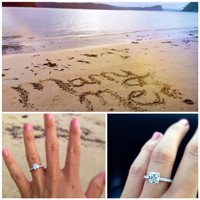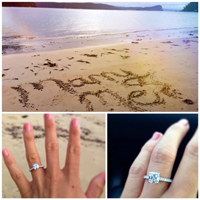 I wish to extend my deepest gratitude towards you both in regards to your AMAZING customer service and help throughout the process of choosing an engagement ring for my soon to be wife! I proposed yesterday and she is over the moon, the ring is above and beyond what either of us ever imagined! I cannot express enough the joy and love I have in my heart that I chose to become a client of your family business! You didn't treat me like a customer but rather a brother, I consider you both as good friends and will definitely be highly recommending you to all my friends and family, you will see a lot of business from us in the very near future! I am over the moon and it's all thanks to you both, thank you is not enough! I found the thought of getting a diamond engagement ring so daunting, but Garren you went to every measure to make sure that I understood and was comfortable with my decision!
Thank you once again and I'm sure I will see you both in the very near future!
My partner Sasha will probably pop in tomorrow to gain your recommendation on sizing as the ring is a tiny touch too big, but Garren you got it pretty damn spot on! You are both amazing and Varoujan you should be very proud of your son, you and your family have built not only a great company but a great product!
Forever thankful.