Rainbow jewellery has gained popularity over the past few years.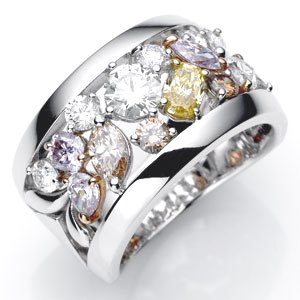 At Varoujan we introduce The Tutti Frutti and Spring design collection. Absorbing an array of spectacular colour, the alluring quality gemstones are ones you cannot resist. Rainbow coloured jewellery has a joyful appeal which brings the adorned wearer endless amounts of happiness.
Did you know that Diamonds and Gemstones come in a variety of different colours?
Sapphires are not quintessentially blue. Mother natures waves her want creatively introducing us to yellow, pink, green, purple and orange to name a few. When contrasted alongside white diamonds these stunning gems colours are intensified creating a rainbow of colour that is a pleasure to wear.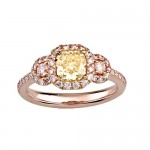 Diamonds don't only come in white. The second most famous colour would be pink, they are also famous for being rare, with 95% of pink diamonds coming from Australia's Argyle Diamond mine, which its imminent closure is projected to be 2020. These pretty pink diamonds are highly sought after also translating into an exclusive investment opportunity. The next popular colour is yellow, and why wouldn't it be it's the colour of sunshine after all. You can all so get chocolate and champagne diamonds which have a lovely earthy tone to them as well as sounding appealing.
One of the lesser known colours is probably blue it is not like the blue you think of as in sapphires, but more of a steal grey or best known as the Blue diamond, these are also extremely rare, they can create a nice touch to any gentleman's jewellery or ladies as they wish. A beautiful way of getting the most colour out of a stone is by setting the stone in the same colour gold, say for instance you have a pink diamond or pink gemstone you can maximise the colour by set it in pink gold to make its colour stand out more, the same can be done with yellow diamonds and yellow gemstones to set them in yellow gold. You want to make a statement after all don't you?
By combining different colours you can achieve a very individual style that will brighten your day and bring you immense pleasure, seize the moment and book an appointment with our very talented jewellery designer who can assist you in creating a beautiful unique masterpiece that will be envied and admired by all.
You've found the girl, and now you need to find the perfect ring. Choosing an engagement ring can be a daunting, confusing task, especially if you wish to surprise the one you love.
It takes time, research and thought to find the perfect engagement ring. Be romantic – choose to present her with a ring that is not only guaranteed to please, but also suit her style and personality.
Questions such as your budget, type of gemstone or Diamond, finger size, and scale of ring start to come to mind. But first, you need to understand her style. Does she worship the modern, or love vintage styles? Is she minimalist or complex? Clues to her style will be found in what she wears, how she styles her home, her choice of handbag, and the type of jewellery she wears – be it costume jewellery or fine jewellery.
We've come up with five ring design categories to help make the choice an easy one.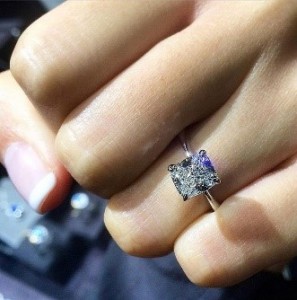 1. Classic The classic girl is traditional. She knows what works and tends to stick to it. She values timelessness over anything overtly trendy or faddish. Great options for classic styles include diamond solitaires, three stone trilogy diamond rings, in any shape of diamond. The universal iconic six claw round brilliant cut diamond engagement ring will always capture her heart.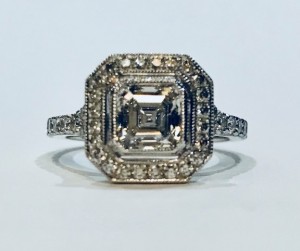 2. Vintage Everything old is new again! The vintage girl loves all things heirloom and is seduced by the romance of by gone eras. Victorian, Edwardian and Art Déco style engagement rings come to mind for her. A vintage style engagement ring will stand the test of time. She's a romantic at heart and loves a bit of good old-fashioned sparkle! A diamond halo engagement ring is guaranteed to please. A vintage style engagement ring will be her family keepsake and treasured for future generations.
3. Coloured Gemstones She's a modernist who never runs with the crowd. The coloured gemstone engagement ring is a style game changer. She's convention defying and doesn't necessarily want a Diamond engagement ring. Choose a hypnotic blue sapphire engagement ring or a luscious red ruby engagement ring. Perhaps an Aquamarine ring to match the colour of her eyes. A coloured gemstone engagement ring is often less costly than a Diamond engagement ring and can be playful and fun. Today's coloured gemstone engagement rings are both modern, bold and sophisticated. Guaranteed to make a statement.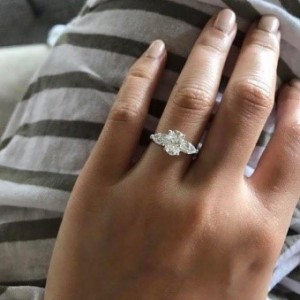 4. Affordable Perhaps you don't want to splash the cash? The affordable engagement ring doesn't shout – it whispers quiet style, soft elegance and true authenticity. Your girl may have a tiny finger size, or she may be uncomfortable wearing a large Diamond. Choose a beautifully designed delicate engagement ring to suit her style and suit your budget.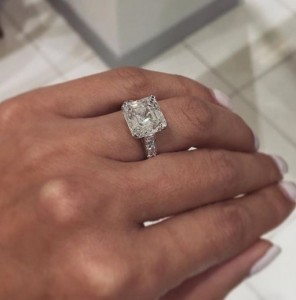 5. Glamorous Calling all red carpet loving gals! Glamorous by definition –is to be under a magic spell. Need we say more! She's stylish, sophisticated and desires only the best. Cast your own spell and present her with a Hollywood style engagement ring to leave her speechless. Design your own one of a kind Diamond engagement ring with the help of a bespoke jeweller for a stunning celebrity style engagement ring.
With so many beautiful commodities coming from Australia it is to be expected we are at the forefront of engagement ring design.

Varoujan jewellers is a leading engagement ring designer based in Sydney. Offering an in house bespoke service so you can create the engagement ring of your dreams. The bespoke process allows you to have a beautiful hand craft master piece that encapsulates your very own sophisticated style. You can enjoy sitting down with our extremely talented jewellery designer and have your dream ring sketched out to your finger size while you watch on, there is nothing more beautiful than seeing every last minute detail you envisage transform into a reality. You may consider one of Australia's unique Mother Nature gems to feature in your engagement ring.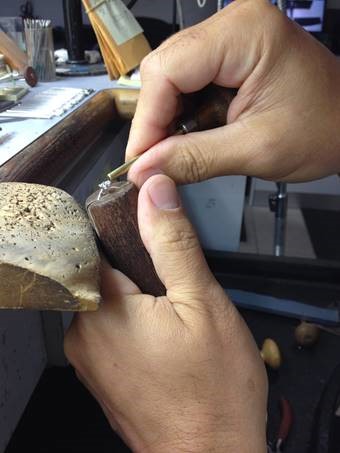 At Varoujan you will be impressed by the selection of engagement ring designs. The classic solitaire, (the ring du jour), the Halo, to the elaborate award winning signature designer engagement rings. There is bound to be a stunner with your name on it.
The demand for the pink Diamonds has been gaining momentum, with the expected closure of the Western Australian Argyle mine in 2019. More clients are wanting this rare beauty set into their engagement ring as pink is often thought of as the colour of love.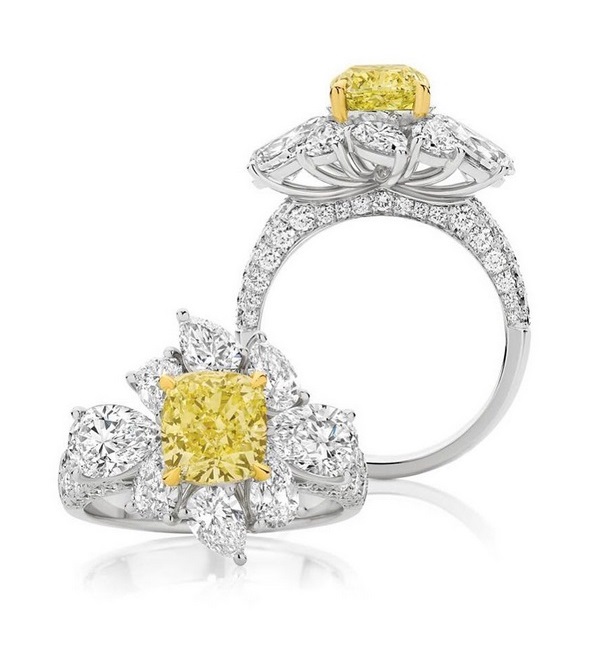 You may not be aware of how much this amazing country has to offer, Australia produces over 96% of the world's Opals, The Ellendale Diamond mine produces over 50% of the world's finest Fancy Yellow Diamonds and The Argyle Diamond mine produces over 90% of the world's Pink Diamonds, The Argyle mine also produces Red, Blue, White, Chocolate and many other natural coloured Diamonds. Gold, Sapphires, Emeralds, South Sea Pearls and many other extraordinary gemstones and minerals are also mined in various locations around Australia. Perfect inspiration for Australian Jewellery Designers.
Bespoke process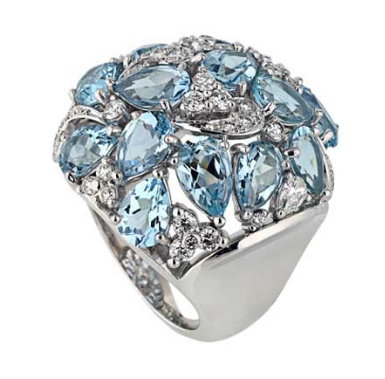 Visit our beautiful showroom in the Sydney Westfield & talk to Varoujan or one of our skilled designers and jewellery experts to talk about different metals Gemstones / Diamonds. Whilst we have plenty inspire you, we'd love to hear your ideas and put them to paper and production.
Bespoke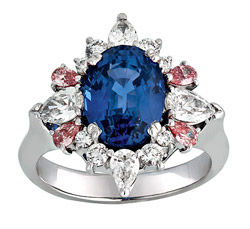 Varoujan has always enjoyed the creative side of his craft. Being trained in diamond setting. Varoujan set exquisite pieces of jewellery for leading International & Local Jewellers, being a diamond setter he closely experiencedmany different genres of classical Bespoke Pieces individually customised to the client's particular specifications.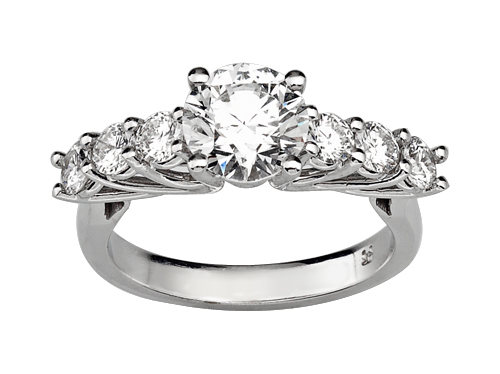 Varoujan will listen to the customer & make sure the design caters for the specific needs of the individual. The diamonds are sourced direct from prime international manufactures, Varoujan then hand crafts his jewellery masterpieces, and sets the gemstones in his Sydney workshop.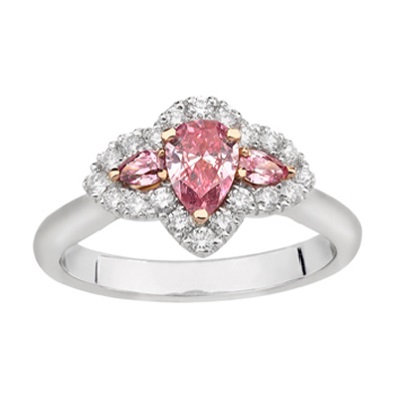 Throughout the manufacturing process, the piece will be photographed sharing the whole experience with the customer. No effort will be spared to ensure the piece is manufactured to perfection. Skill & Artistic aptitude combine the outcome is an individual piece of timeless elegance to be enjoyed by the wearer and a treasured hand me down for future generations.
Designing Background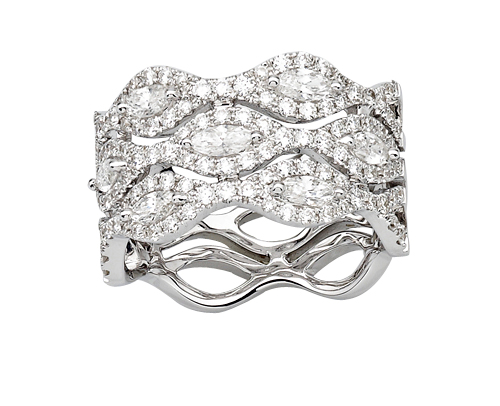 Varoujan's years of experience as a diamond setter enabled him personally to consult a multitude of world leading designers, combining skill and individual flair resulted in Varoujan winning three Australian best design awards. The Varoujan customer expects attention to detail. Premium quality Gem & Diamond selection, an eye for the individual.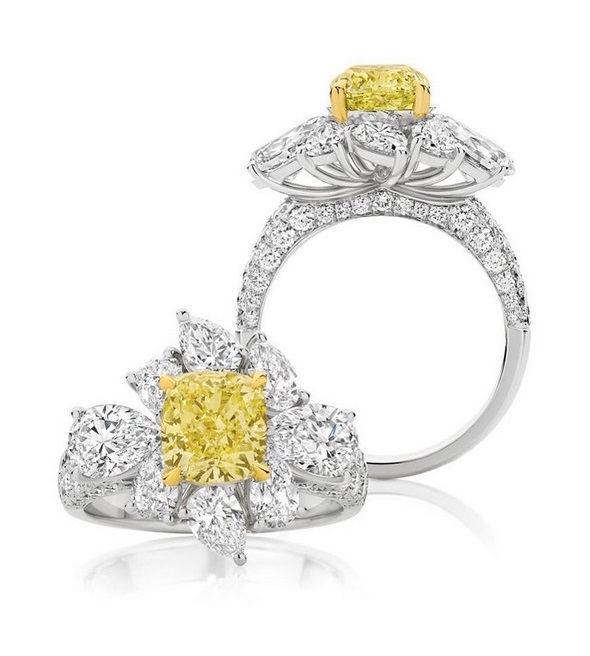 Never short of ideas Varoujan, will be there for the customer throughout the designing process, the manufacturing and the final stages of your masterpiece being delivered to you.
The whole experience of dealing with Varoujan at his beautiful boutique in Sydney, is a one of a kind experience treasured by many.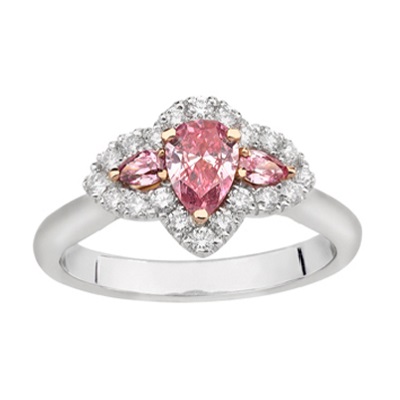 2017 shows the rising trend of coloured diamond Engagement rings. With the imminent closure of the Argyle Diamond Mine, expected in 2020, Varoujan Jewellers are noticing an increased demand for these alluring stones.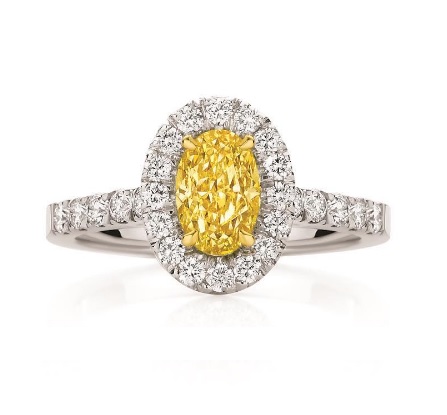 Also noted is a popular demand for Diamond shapes other than the round  brilliant cut.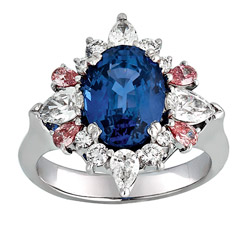 Blue Sapphire rings are capturing the hearts of many more ladies. Sapphires are found in an assortment of colours.  With a rating of 9 on the Mohs hardness scale, these gemstones are second hardest to Diamond, which makes them an ideal option for an engagement ring.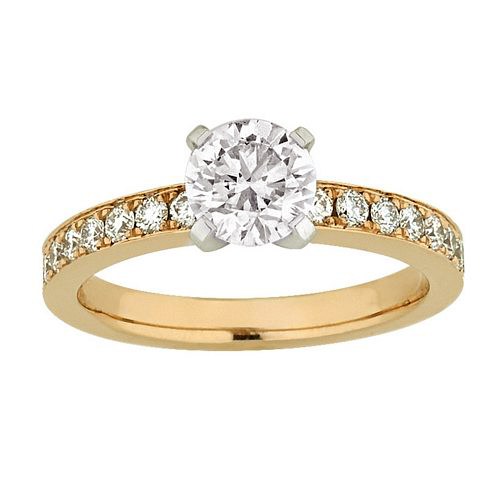 Yellow gold has not been so popular in recent years, now it's making a comeback. The warm gold tone suits most complexions, so it's no wonder that this precious metal is trending again.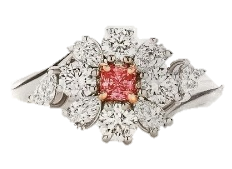 Engagement rings are blooming right now with floral designs adding a soft feminine touch.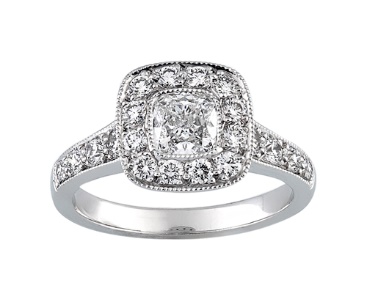 The Vintage style is beloved for its intricacy and femininity. Whether you opt for a handmade antique or a vintage-inspired design, you can't help but be captivated by the distinctive charm of the bygone era.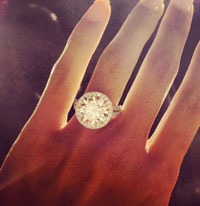 Diamonds are a girl's best friend and the bigger the better seems to be the trend of today.
Varoujan Jewellers is an Australian company located in Sydney established in 1977. Specialising in hand crafted diamond engagement rings and bespoke jewellery, you are bound to find something desirable with in our Boutique. We have in house jewellery designers, diamond graders and gemologists that can assist you with the diamond your heart desires.

Our Boutique is located in the heart of the CBD in Westfield Sydney on Level 3, Shop 3048-B 188 Pitt Street Sydney NSW 2000 Entrance via Castlereagh Street Level next to Hugo Boss and Mulberry. Visit our Boutique and meet our friendly staff that will give you their undivided attention.
Varoujan Jewellers prides itself on abiding by the Kimberley Process and only dealing in conflict-free diamonds.
Fancy coloured Diamonds come in every spectrum of colour. They are very sought after – particularly the Argyle pink Diamond, which can command a very high price because of its rarity. Not all fancy coloured Diamonds command such high prices but are still desirable as they are considered to be different from the norm.
The Argyle Diamond mine located in the remote East Kimberley region of Western Australia is one of the world's largest sources of natural coloured Diamonds.
The mine produces white, champagne, cognac, blue and highly prized pink Diamonds.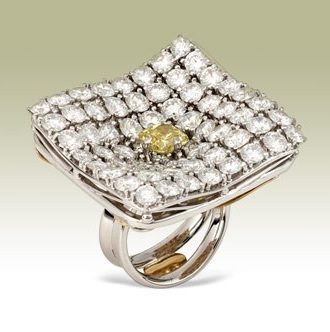 Varoujan Jewellers offer a large selection of Argyle pink Diamonds as well as yellow and other highly sought after fancy coloured Diamonds.

Varoujan Diamonds are strictly sourced from manufacturers adhering to the Kimberley Process to ensure conflict free stock.
Established in 1977 and specializing in the art of hand crafted bespoke masterpieces Varoujan Jewellers are one of Sydney's leading jewellery designers.
To own a piece of jewellery from Varoujan Jewellers is to own a masterpiece that will be admired and cherished for years to come. A handcrafted piece of jewellery has a luxurious feel of quality that can't be replicated through casting or through mass production. A handmade Varoujan ring is made with forged metal – this assures you that the piece will last 10 times longer than a cast or printed alternative.
Think about it – for example your grandparents or great grandparent's rings have lasted the test of time because they were made by hand with forged metal.
The major difference between handmade and cast rings is the strength in the metal, particularly the strength in the claws. Unfortunately many produced rings on display in almost every jewellery store have NOT been hand made, but have instead been cast to keep costs down… This is detrimental to the durability of the ring.
Jewellery that is produced using CAD, wax models and casting is NOT handmade, and it's true description should be that it was hand-finished which is more accurate
A Varoujan Jewellers hand crafted ring has had the gold rolled and heated, rolled and heated a countless number of times (much like a samurai sword) until it has passed Varoujan quality control tests. Once the forged metal has been approved and up to our standards, your custom piece of jewellery is worked upon for upwards of 50 hours (depending on the complexity of the job).
At Varoujan Jewellers we pride ourselves in creating jewellery that will be worn and last for generations to come. Let us create something truly amazing for you…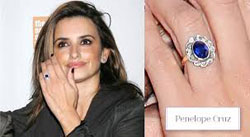 Sapphires offer a rainbow of colour options and due to their hardness and wearability, are ideal for use in engagement rings. The most well known type of sapphire is the blue sapphire. However, blue is not your only option when purchasing a sapphire. They are available in almost any colour you desire. Diamonds are the hardest substance on earth, graded 10 on the Moh's Hardness Scale. Sapphires are graded 9 on this same scale, and are thus very resistant to scratching and chipping and ideal for use in jewellery, particularly jewellery such as engagement and wedding rings that are worn daily.
Firstly, the most important thing about an engagement ring is its symbolism. The ring itself is meant to symbolize something beautiful, rare, and precious, like the love the couple hopes to share for life. The ring doesn't have to be costly, and it doesn't have to be a diamond ring (just take a look at the British royal family —- the Queen Mother, Queen Elizabeth, Princess Anne and Princess Diana received sapphire engagement rings, and Princess Sarah Ferguson, a ruby). Your choice must simply show thoughtfulness and caring, and incorporate appropriate symbolism. Breaking free from modern tradition and choosing a Sapphire rather than a diamond engagement ring shows, you are a confident person individual person who likes to stand out from the crowd.
Some celebrities who were given a sapphire as their engagement rings were, Elizabeth Hurley, she was given a gorgeous trilogy sapphire and diamond ring. Penelope Cruz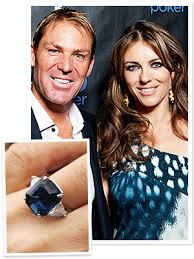 Quality sapphires are found in Ceylon, Thailand, Australia, India, Burma, Africa, and Brazil.
The most popular sapphire shapes are, round, oval and cushion. The most popular sapphire and diamond engagement designs are the traditional cluster, Princess Diana's ring, and today's updated version, "The Halo", which is a modern version of the cluster which looks absolutley stunning with a sapphire as the centre stone, the smaller diamonds complimenting the sapphire.
Varoujan Jewellers specialises in custom made jewellery, including sapphire halo engagement rings. Whether you want to choose from one of our classic styles or create something completely unique, Varoujan Jewellers can make a sapphire ring to suit your individual style and budget. You can use our many display rings to help you choose a style, or alternatively, you can bring in your own ideas or pictures and our designers can help you design.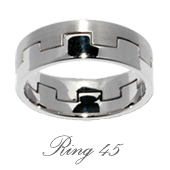 Diamonds…men's best friend? Women get them, so why can't men? These questions are inevitable when it comes to deciding if a bit of bling is best for your ring. Diamonds are making their mark more and more in men's wedding bands. Whether it be a single diamond or a line of diamonds, a diamond is an equally beautiful expression for a men's wedding band as it is for a woman.
When it comes to deciding whether or not to have a diamond in your wedding band, it is a very personal decision. Once you have decided if a diamond wedding band is for you, you then have to decide how to set the diamond(s) and how many you would like, this can often become quite overwhelming. If you are not someone who has an interest in jewellery or do not wear any jewellery apart from a watch, it does not mean that a diamond set wedding band is not for you, it may just mean that you approach it differently. For example, here at Varoujan Jewellers, we would suggest setting a more masculine cut diamond into your wedding band, such as a princess cut or baguette cut which is a great way of incorporating a diamond without having to worry about too much sparkle. The size of the diamond you decide upon will also affect how much presence it bears upon your ring, where a smaller diamond set slightly more inconspicuously will suit someone who is not wanting their wedding band to be too much of a statement.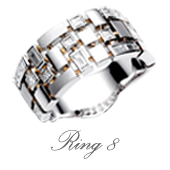 For those who are slightly more daring, diamonds can be incorporated into men's wedding bands in creative and beautiful ways, as evident in our Varoujan Boutique collection of men's diamond wedding bands. Here at Varoujan Jewellers we specialise in creating one off unique handmade creations and that extends to our men's wedding bands, incorporating all different cut white, black and even blue diamonds.
So, if you are unsure if a diamond wedding band is suitable for you or your loved one, make sure to visit our Varoujan Westfield Boutique to experience our range of beautiful men's wedding bands, including those that features diamonds. Making the leap to a men's diamond wedding band for some gentlemen can be too much, however, for those who choose diamonds, they can rest assured that here at Varoujan our designs and quality are far superior, ensuring that you enjoy your ring in 'sickness and in health'.