2013 proved to be the year of the bling ring, as so many of our favourite celebrity couples got engaged – and they sealed the deal with radiant new rocks
So many celeb couples decided to take the next step in their relationships. Getting engaged in Hollywood means showing off a ginormous new rock – and 2013 proved to be a year filled with bigger and better rings than ever before.
We saw many leading ladies find love again after bad breakups and divorces – and their gorgeous new sparklers are as radiant as their smiles.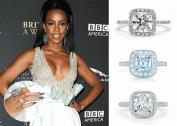 Joining the cushion-cut club, Kelly Rowland, the former Destiny's Child singer has been seen sporting a dazzling four-carat halo engagement ring.
At Varoujan Jewellers we have Kelly's style in various diamond shapes, from the traditional round brilliant cut halo, to radiant cut diamond halos, princess cut with pink diamond halo, the popular oval diamond halo, or we can customize a special halo just for you to fall in love with.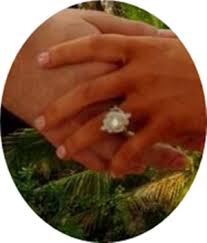 Congratulations to Christina Aguilera, she received a gorgeous engagement ring from longtime beau, Matthew Rutler. The movie producer popped the question while they were relaxing by the beach. How perfect! Christina's engagement ring looks to be a vintage style, with a large, art deco halo bordering a round brilliant diamond. This is a distinctive design that's been gaining in popularity recently, with stars from Scarlett Johansson to Ashlee Simpson taking influences from 1920s fashion. The appeal lies in its ornate structure; the ring covers a large surface area on the ring finger without the need for an oversized center stone.
Love the look? Visit Varoujan Jewellers at Sydney Westfield Level 3 to discuss this style of diamond engagement ring as your option.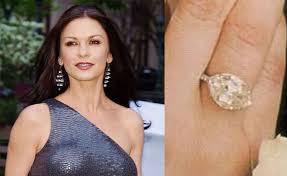 Marquise cut engagement rings are a distinctive choice for women who love vintage-inspired designs that illuminate, These vintage style diamonds are available at Varoujan Jewellers, we have a gorgeous yellow diamond marquise engagement ring in our Sydney Westfield Store just waiting for you to try on. The striking shape, reminiscent of a smile, is cut with a brilliant facet pattern. This means that, similar to the iconic round and princess cuts, they are intended to produce lots of sparkle. Catherine Zeta-Jones' features a 10-carat marquise cut, resting with the points placed horizontally across the band. Michael Douglas proposed to the Welsh-born star on New Year's Eve, 1999
While these days she wears a pear cut, Victoria Beckham originally had a marquise cut engagement ring. David Beckham proposed to the Spice Girl in January 1998 with the $70,000 sparkler.
At Varoujan Jewellers, we can create the celebrity engagement ring look that's just right for you, whether you are in love with a unique fancy intense yellow diamond halo engagement ring, the classic 4 claw diamond solitaire engagement ring, pink diamond engagement ring, the art deco look which has a lot of character and charm, to coloured stone engagement rings.  Take advantage of our award winning designers, allow them to use their creativity to design a special dazzling engagement ring, one that you will be proud to wear and show to family and friends.
Let your exciting journey begin with us at Varoujan Jewellers.
Having divorced from her first husband, Ryan Reynolds, some two and a half years ago, Scarlett Johansson is all set to take the plunge again. This time her fiancée is Romain Dauriac, a French Journalist. Sources close to the couple stated that "Scarlett and Romain are now officially engaged and are extremely happy together".
The rumour mill had been circulating about the possible engagement of the couple and was confirmed when she was recently spotted wearing a stunning art-deco style, vintage diamond engagement ring at the Venice Film Festival held in Italy. She was promoting her latest film the sci-fi blockbuster 'Under The Skin' and seemed more than happy to show the ring off.
No date for the big day
According to People Magazine, the French Journalist proposed to the 28 year old actress a little over one month ago although the magazine stated that "As of yet, the couple haven't fixed a date for the big day".
Johansson has been nominated four times for the Golden Globes including her first major movie 'Lost In Translation' where she teamed up with Actor Bill Murray. Since then she has gone on to star in films such as 'The Girl With The Pearl Earring' and the much acclaimed 'A Love Song For Bobby Long' where she starred alongside John Travolta. In 2012, Johansson played 'Black Widow' in the record-breaking movie 'The Avengers', a role she is set to reprise in 2015.
The Engagement Ring
Scarlett Johansson's engagement ring featured what looks to be three round diamonds surrounded by a vintage, rectangular setting with more diamonds. A stunning and unique design. Johansson is the latest celebrity to be seen breaking tradition and going for unique engagement rings. We don't know if this is really her idea or Dauriac's idea but regardless, we love the design of the enagement ring.